Spot the shuttle!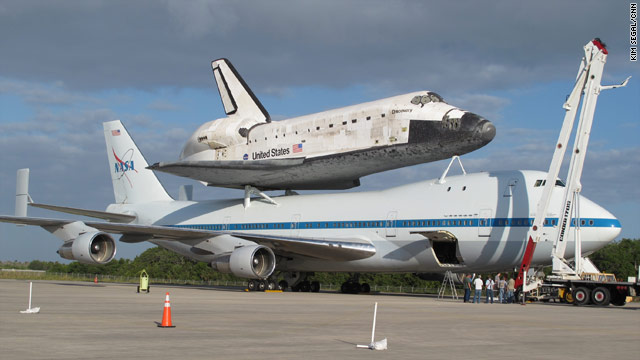 Tomorrow marks a big day for space shuttle Discovery: The shuttle will take the last flight of its career. Discovery is headed from Kennedy Space Center in Florida to the Smithsonian National Air and Space Museum, just outside Washington, D.C., where it will transition from explorer to educator.
To celebrate the shuttle's final flight, we're partnering with NASA and the Smithsonian to track Discovery's journey from Florida to Washington. That's where you come in: If you're in the southeastern U.S., we want you to join other space enthusiasts to try to spot the shuttle during its trip tomorrow and
share your photos on CNN iReport
!
If you'd like to participate, here's what you need to know:
The shuttle will leave from Kennedy Space Center in Florida at dawn (around 7 a.m.), weather permitting. It will fly over the KSC visitor center, Patrick Air Force Base, and the Space Coast beaches before making its way up the coast (for security reasons, NASA cannot release the exact flight path). Between 10 and 11 a.m., NASA plans to have the shuttle fly over Washington, D.C., including several major landmarks, before it lands at Dulles airport for transfer to the museum. If you're in the D.C. area, the Smithsonian
has some tips
for you on the best places to view the shuttle.
Discovery will ride on top of a specially modified 747 for the journey to the Smithsonian. The pair will fly quite low, around 10,000 feet, for the entire journey. So as long as the weather is reasonably nice, they should be visible for the entire flight.
Be sure to upload your images to our
Space to Smithsonian
assignment. We'll plot the best of them on a map for CNN.com, and NASA and the Smithsonian will share them with literally millions of followers on social media! If you share your images on Twitter or Instagram, be sure to tag them #spottheshuttle.
So, set your alarm and prep your camera, because tomorrow is your last chance to
#spottheshuttle
!
Spot the shuttle! - CNN iReport Blog