Step 6: Pick your advisers carefully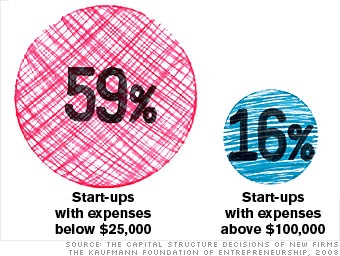 Even sole proprietors need a team. Get these people onboard before you launch:
A C.P.A.
If you have a simple business with limited expenses, say consulting, you might be fine with small biz software from TurboTax or TaxCut. But if you'll have a lot of costs or a payroll, hire a certified public accountant, who can help you time purchases, set up billing systems and file taxes. Get references from other business owners or do a search at
cpadirectory.com
.
A lawyer. You may want an attorney to help structure your business. And you'll definitely want one if there are licenses involved or if you'll be signing or writing complicated contracts. Again, get references from other small business owners.
A mentor.
Don't have someone to bounce ideas off of? Make contacts via your local Small Business Development Center (SBDC). A joint effort of the U.S. Small Business Administration, universities and private-sector volunteers, SBDCs offer classes and counseling. Go to
sba.gov
and search "SBDC Locator." Or try SCORE (
score.org
), a nonprofit staffed by small biz vets.
Step 7: Make it official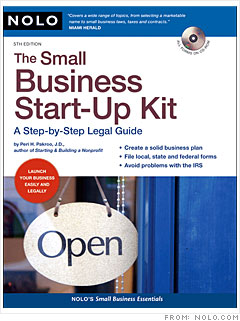 ...in the eyes of the law and the IRS by settling on a structure for your business. C-Corp and S-Corp designations are meant for companies that have multiple investors or that plan to go public; most businesses can opt for the less labor- and cost-intensive sole proprietorship or limited liability company (LLC). For more on how to set this up, talk to your lawyer or get The Small Business Start-Up Kit (nolo.com; $30 for the book and the CD.)
Step 8: Chase the moola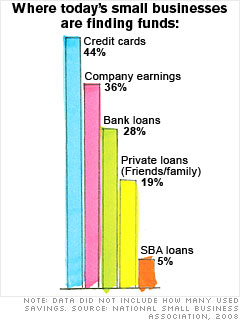 The right financing depends on your situation - and what you can get. These are the most common options, from cheapest to most expensive:
CASH/SAVINGS
Good choice if... ...you have the money. Can't beat the 0% interest.
bad choice if... ...your only way to get cash is to tap your emergency or retirement funds.
FRIEND AND FAMILY LOANS
Good choice if... ...they'll agree to it. So no one incurs taxes, make sure they charge you the "applicable federal rate"--recently 1.4% to 5.8%, depending on the term; find it at irs.gov--on loans above $12,000.
bad choice if... ...your generous relative isn't also forgiving. Some 14% of these loans end up in default, according to a study by peer-to-peer loan facilitator VirginMoney.
HOME EQUITY LINE OF CREDIT
Good choice if... ...you have a lot of equity and need a little. A FICO score above 700 and at least 20% equity is key to getting approved. Rates average 5.3% (variable) and are falling.
bad choice if... ...you have little equity or home values are falling a lot in your area. Also, since your home is the collateral, don't take this loan on if there's a chance you'll default.
BANK LOAN
Good choice if... ...you can get one. It's especially hard for start-ups to qualify. Community banks and credit unions are your best bets. With a FICO score of 700 and collateral, expect a fixed rate of 5% to 10%.
bad choice if... ...there's any chance you'll default, since you typically need to put up collateral.
SBA MICROLOAN
Good choice if... ...you need less than $35,000 and can swing the 8%-to-13% rates. Your Small Business Development Center should have leads on which local nonprofits make these loans.
bad choice if......you can't swing the interest rates.
CREDIT CARD
Good choice if... ...you can get a low rate (the average is now 11%) and are sure you will never ever miss a payment. Penalty rates can go up to 36%.
bad choice if... ...you're flaky with bills, lack the willpower to pay more than the minimum or can't get a low-rate card.
VENTURE CAPITAL/ANGEL INVESTORS
Good choice if... ...you have an innovative healthcare, tech or engineering idea that will generate some $50 million in sales yearly.
bad choice if......you don't have a big, big idea. Frankly, you have better odds of dying from a fall in the bathtub.
Step 9: Lure customers, on the cheap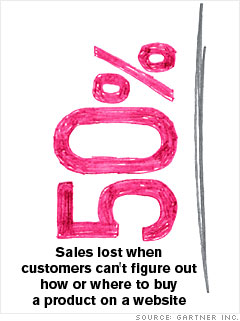 What's a business without customers? Once you're ready to launch, you've got to build up a clientele as quickly as possible. Try these four strategies:
1. Start with people you know. Word of mouth is a powerful tool. Ask friends to spread news of your biz. Use social-networking sites too. Facebook lets you start a page for your company, run promos and post polls. Sign up for Twitter, which lets you broadcast your doings; and use it to remind pals about your business, says Joe Cullinane, marketing executive in residence at Northern Illinois University.
2. Be where your customers are. If your clients are in a particular field, go to trade shows. To get your name out, "see if you can speak at an event," says Cullinane. Or ask a question in front of the crowd at panels and engage in discussions afterward.
If your clients are in varied industries, think about what other types of businesses they frequent. See if those firms will work out a reciprocal marketing deal.
3. Get some ink.
Public relations is cheaper than advertising, so use press releases to get your business some buzz. PR Newswire offers a program allowing small biz owners to send releases to targeted groups of media and consumers (
prtoolkit.prnewswire .com
). One-time fees for the service start at $180 for state and city distribution, $680 for national.
4. Offer sweet incentives. Anita Campbell of Smallbiztrends.com suggests giving away something - doing a very small project on spec, for example. Another option: Break out a piece of your business into an inexpensive one-off purchase. "Build trust first and that can lead into a bigger purchase later," she says. Also, consider promotional offers, such as "Buy one, get the second half-off."
Step 10: Go 2.0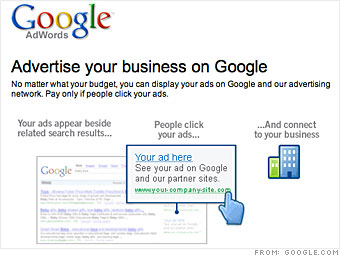 Think you don't need a website? Look up your competitors online; if they have a site, so should you. This is a reasonably cheap promotional tool; it may even substitute for a bricks-and-mortar establishment, depending on the business. To get your money's worth, follow these dos and don'ts. DO...
Focus on the message. You don't need a flashy site, says Derek Gehl, CEO of Internet Marketing Center, a small business training firm. "Instead, write sales copy that converts visitors to buyers." State clearly and concisely on the home page the benefits of your service or product. See what keywords people might search (use adwords.google.com/select/KeywordToolExternal) and work them into your copy.
Use testimonials. No customer base yet? Consider giving targeted groups of people your product for free in exchange for their reviews.
Drive people to your site. Get bloggers to link to you. Also, sign up for Google AdWords (adwords.google.com) , "which helps your ads pop up along similarly named search results," says Cullinane. You pay per customer click, and you set a daily budget.
DON'T...
Forget why people have come. More than 50% of online sales are lost when customers can't figure out how to buy the product or service, according to research firm Gartner Inc. If you're selling online, put a "buy now" button on the home page and list a customer service number.
Let customers go. It's cheaper and more effective to market to previous buyers. Make sure you have a way to get contact info from even those first customers, Gehl suggests. That way you can start building the customer base that will make your start-up a success.