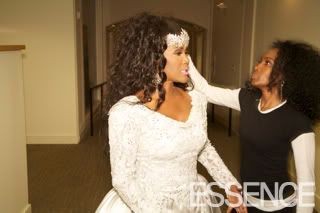 Dressed in her wedding gown, Bynun had her dress altered after dropping two sizes since her wedding. Adorned with Swarovski crystals, the dress, which took nine months to make, cost $65,000 and her wedding ceremony cost $1.2 million.
"One of the greatest moments of my life was the day that I married," she says. "That day was supposed to be the defining moment of my life when I would show the world that I had stepped into my womanhood, which was always the original intention of my dress and I refused to let it not be [by wearing it again]."
Prophetess Bynum throws a peace sign to represent the calm she's found in her new life.
Freedom Fighter
Prophetess Bynum addresses family and friends at her sacred ceremony. She explains the powerful meaning behind her sword, which is to fight off all evil from her past so it will not meet her in her future. "When I held that sword up I felt I was fighting for every woman who ever had low self-esteem, feels like she can't get herself together, and has been made to feel like trash," she says. "That fight is in me now."
Bynum is all smiles as she greets guests at her sacred ceremony in the Georgian Ballroom at the Biltmore in Atlanta.
Monique Walker, the ex-wife of Hezekiah Walker, serenades Bynum with "This Is My Season" from her debut album, "My Genesis."