The elite club where the crash and burn is just as swift and harsh, but even more vivid and public: the Harvey Weinstein club.
Every few years, Harvey picks a new girl as his pet. He puts her in a picture or two, takes her to an event, makes her a project, an attempted creation.
The Harvey Girls are easily spotted. They are all very pretty, often in a rather generic sense. Their instant fame and the push behind them comes seemingly out of nowhere and without any justification in terms of resume or skill set.
But the most telling sign, if you're looking, is the Want. These girls, each of them, has the look of desperation, of need. They WILL be famous. They WILL be stars.
#1
Gwyneth Paltrow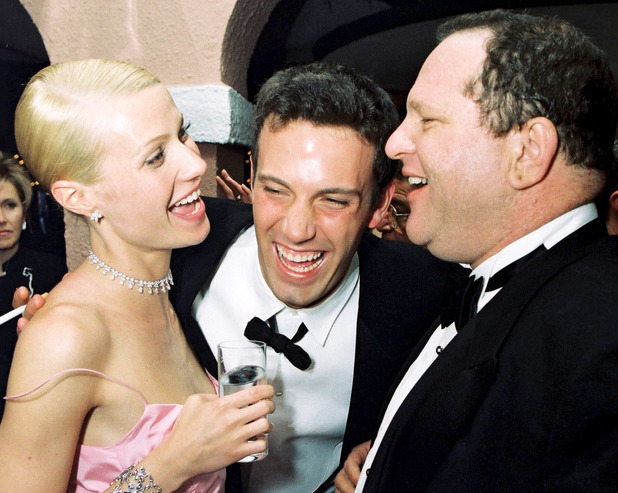 Gwyneth won her Oscar for 'Shakespare in Love' in 1998, produced by Harvey Weinstein. the rumors of Gwyneth and Harvey's escapades were so wild, going as far as her then boyfriend, Brad Pitt allegedly breaking up with her because he caught her on her knees in front of Weinstein.
#2
Mira Sorvino
Despite getting an Oscar for 'Mighty Aphrodite', Mira Sorvino failed to be as successful as Gwyneth, practically being in nothing of note since.
#3
Jessica Alba
Alba had been around for a while prior to 2005's
Sin City
, but apparently Harvey fell in love at first seductive bull ride, trusting her with
Awake
.
when 'Awake' failed he given up on her. the one thing Harvey wants the most are Oscars and Alba did not have a shot at being taken seriously as an actress.
#4
Sienna Miller
It's easy to forget just how hard the push was on Sienna Miller. She was huge. She was painted as this immense fashion icon who would be an unstoppable celebrity force as soon as
Factory Girl
was released. Harvey wanted to pull a Gwyneth and get her an Oscar.
Needless to say, that didn't happen.
#5
Blake Lively
Despite only being in a CW show, Lively was all of the sudden touted a fashion icon, like Miller and became a somewhat of an it girl in the press with her fashion choices and her highly publicized relationship with Leonardo Dicaprio. Sadly, that did not translate into film succes.
#6
Jennifer Lawrence
Harvey's biggest success since Gwyneth, he had managed to get her an Oscar at 22 and make her an it girl. more then rumors about Lawrence sleeping with Weinstein for that success, she was even accused of it by Lindsay Lohan.